It's August 2017 and something started exactly a year ago which is now responsible for changing a lot of lives.
3 Minds Digital – A start-up which set out to disrupt the 'traditional' digital agency model by looking wholly at how design and digital communication can work together to solve real business problems.
The way the agency came together was truly a modern day match made in investor heaven! Sanjay Choudhary, a prolific entrepreneur and investor, also Founder & CEO of CrowdInvest connected Moulik Jain, Shubhda Garg and Harnish Shah – 3 amazingly creative minds from diverse professional backgrounds, who he knew individually through his network were brought together to become the co-founders of a disruptive digital marketing agency.
Meet Moulik Jain, a serial entrepreneur who worked on several tech ventures before jumping on board as Co-Founder. A true tech-evangelist, he is constantly learning and visualizing how new technologies can be leveraged to maximize impact for their clients. He is also the in-house TED speaker – constantly motivating and inspiring the team!
Shubhda Garg, the other Co-Founder perfectly balances this high-octane energy with her calm demeanour, in-depth understanding of business problems and her quiet hustling which gets things done even under the highest pressure! She is a wanderer and traveller at heart and after 8+ years in the corporate life jumped at this opportunity to lead her own venture and implement all her learnings. She has a Masters in Marketing Communications from UK and brings strategic brand expertise onto every single project.
Harnish Shah, the 3rd Co-Founder of this company, strongly believes that design can solve untold problems. His vision and approach to design helps him excel his department. His expertise lies in branding, packaging and design processes. A graduate who was once hired from the placement cell of Symbiosis Institute of Design, Pune, due to his hard work and efforts, within a year, had the privilege to hire his own team, while sitting on the other end of the very same placement panel.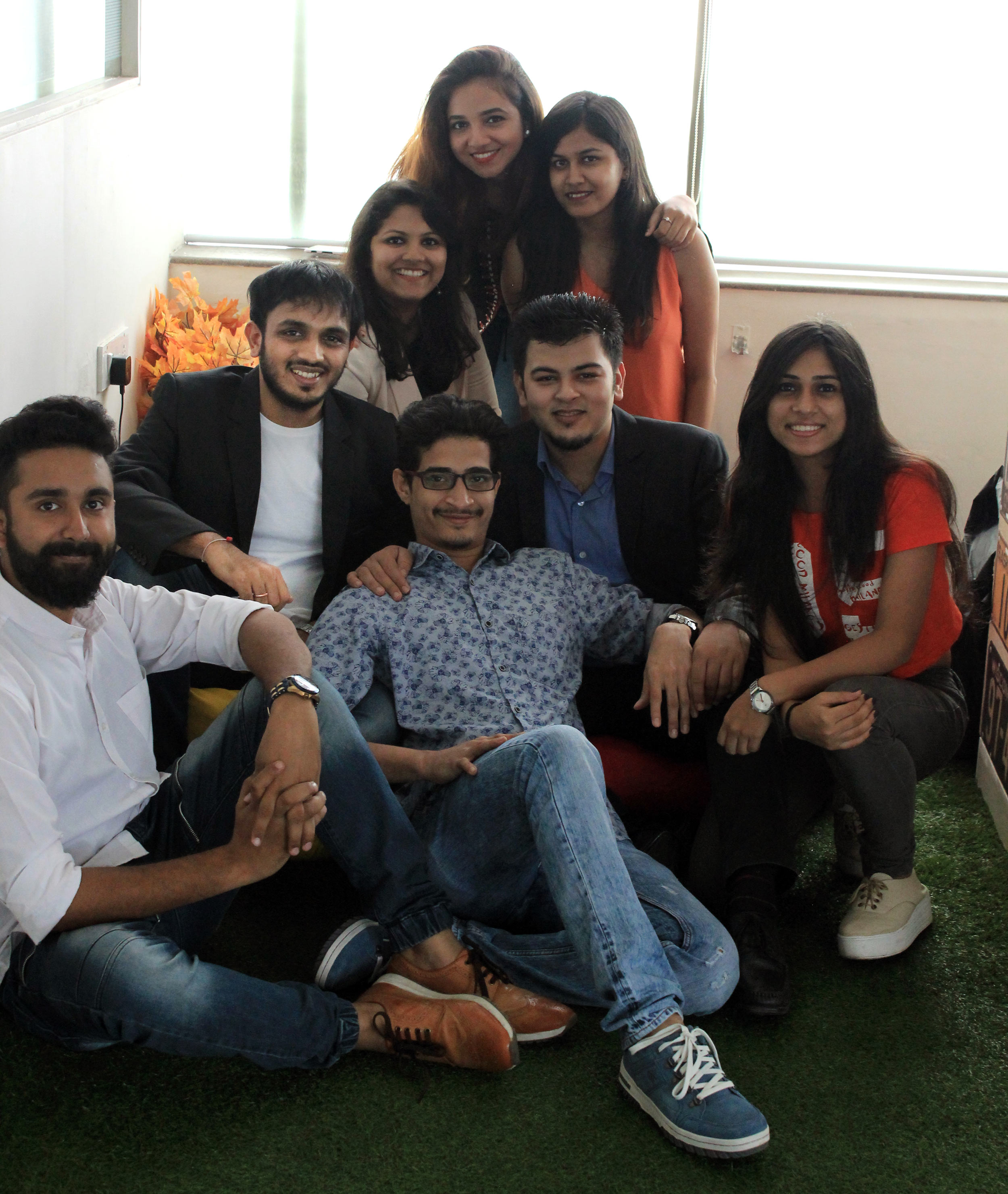 The success story of a startup depends entirely on its team. Each and every member of this team represents the very spirit of the company: aware of the limitless potential to grow. In the first year of its establishment, they've gone to great lengths to identify people with diverse experience and skill sets to produce not just a well-rounded workforce but, a talented and complementary team. So, until you have the pleasure of meeting them in person, here is a brief introduction responsible for making this Mumbai-based agency stand out tall. It will give you a pretty good idea of who they are as individuals first and professionals a very close second.
Naman Shukla, a problem solver, is one of the first people who joined the 3 Minds as their Head of Creative Strategy with a special love for UX/UI. His unique perspectives and ability to interpret and communicate from the very beginning, have led him to becoming a core team member for strategies. A native of Lucknow, he came to Maharashtra to pursue his graduation in design from Symbiosis Insitute of Design. One who truly converts his weakness into his strength, the colour blind designer can't be doubted for his design interaction theories and skills. Outside of work, you can find him travelling around on his trusty bike.
Mustafa Ujjainwala, the one who has a tremendous passion for technology, the team's go-to tech guy. A South-Bombay fitness enthusiast, he has a serious connection with coffee and Red Bull. A true fan of Kygo DJ, he is sometimes found cracking jokes which are out of the world and singing the worst remixes of Hindi songs. His forte is to annoy people.
Akanksha Kumar started out as an intern and now a Jr. Graphic Designer in the team, the girl completes the niche Symbiosis family in the office. The one who is always found beat-boxing only to fail terribly at it, she is someone whose laugh will make you laugh too. When not deeply involved in a project, she is found making funny Snapchat videos making sure she completely exploits the filters. Trust us, she is really good at it!
Gazal Agrawal, a native of Assam, who pursued her BBA from Xavier's Kolkata and Visual communication from Srishti Institute of Art Design and Technology Bangalore, adept at whizzing amazing designs out of thin air, though is known more for her witty one-liners. A true foodie at heart, she likes writing poems on ironies and is a huge follower of Prateek Kuhad.
Bhoomika Wadhwani, the youngest member of the team, is the power house of social and content ideas. A final-year Journalism student in Jai Hind College, she is always experimenting her interests in various styles of writing only to conclude her 'discovery phase' is going to last longer. Someone who is often spotted with a GoPro, she is a hardcore rock climber and knows how to use social media for work, fun, and engagement in the perfect balance.
What makes these guys different?
It is their domain expertise that covers the rapidly exploding digital landscape and most importantly their hustle. At 3 Minds Digital, they combine design, communication, and digitization to help clients go beyond the conventional problem-solving approach with a proprietary process that creates a holistic roadmap for businesses to grow and better connect with their consumers in a result oriented, data driven manner.
Unlike other agencies, they are not just design focussed, instead work on a data-driven model to provide customized solutions for customers. Their clients ranging from large Corporates like TATA, IIT Bombay – SINE, Infor, Zee Entertainment, Fazlani Foods, etc. to emerging start-ups like Klassroom Edutech, Wishbells, The Logical Indian, Incuspaze Co-working and many others – tend to agree.
No job can be well done unless the dynamic and professional team is committed and on the same wavelength. At 3 Minds Digital, they capitalize on the strength of each member of the team and work together till the project is completed.
Visited 1656 times.