Beginning a new Instagram profile is like giving birth to a baby. You have to 
nurture it through optimization, feed it with good content and worry a lot about
its promotion.

The other day on the work desk, one of the team members shared her experience 
on how one can go about building the reach on a new profile.
I recently opened up a new profile. The rationale behind it was not blogging per se but, the urge to conduct experiments with the optimization of the profile. I started putting up good pictures but, it all went unnoticed. Then, I used a few hashtags and started getting likes in single digits. I felt awfully demotivated and could figure out it wasn't the way this should work for working in a digital marketing agency in Mumbai.
*waits for the lighting bulb moment*
One day I happened to follow a profile which was a regular hanger-on of my pictures. I opened up the profile and to my surprise, found out it had similar content as my profile and the hashtag set was similar too. I did this with a couple of profiles. It just happened automatically, as a reflex action. And could connect the dots.
Subsequently, when I devised my next set of pictures, I wasn't done by just uploading it and waiting for people to reach it through hashtags but, I took a step further by following the hashtags.
I uploaded the picture of a traffic light that I saw in a very cool cafe.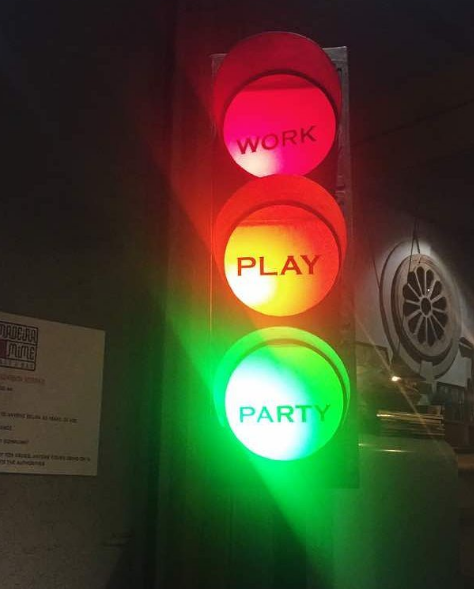 And tagged it with the following relevant hashtags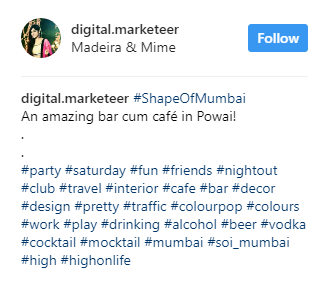 Next, I went and tracked all these hashtags, one by one. Beginning with "party" and going on till "high on life" and went and liked at least 10 pictures of each hashtag search result.
ProTip: Don't go for the ones in "Top Post" because it displays the top bloggers and the best posts wherein the chances of a blogger returning to you are next to impossible. Go for the ones in the "Recent Post" which include the recently uploaded posts by other bloggers – usually the ones with a smaller reach. (You'll find your post as one of the posts in this section.)
So, when I liked their posts, I could instantly receive notifications of them liking my post too. One went ahead and happened to like all my posts. I could sense a feeling of this mutual bond of liking posts for getting likes on your post.
Since then it became routine for me, it was like the more time I spent on liking other profile posts, the more likes I obtained on mine.
So, should you be doing this all the time? No! Just take out 10 minutes after uploading your post.
Track 10 hashtags only. Go to the first 5 profiles of each hashtag and like the first 10 posts on their profile.
This way you have made your optimization concentrated but, the chances of those profile returning to yours will be higher as they have received more notifications with your profile and they are bound to notice it and might end up following you too.
Let's call it the "Sacred Like Of Instagram!"
Image Credits: Google Images